How Patty Jenkins Wonder Woman Inspired Director Timothy Hines to Complete Chrome The Series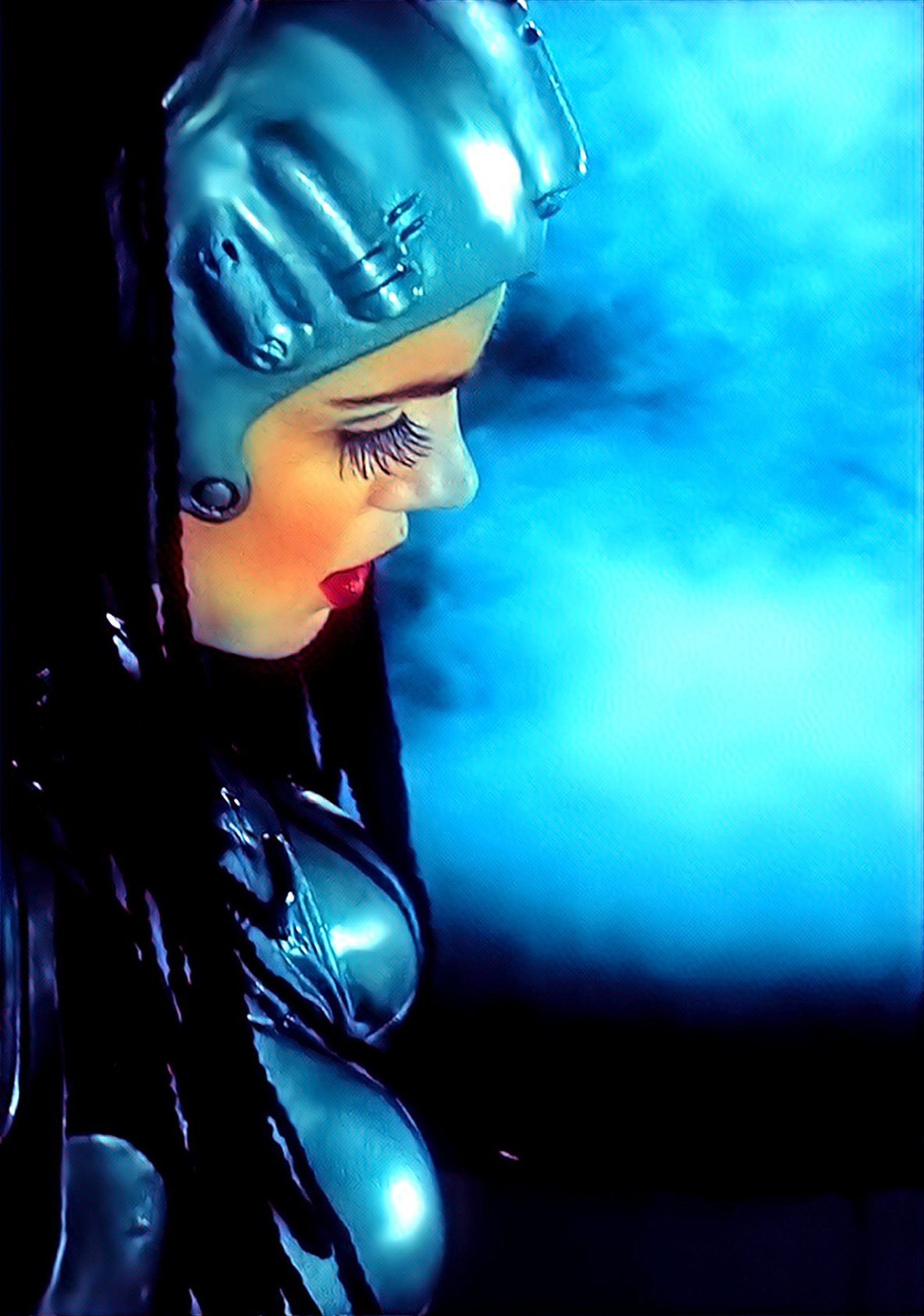 Katie Erin Tomlinsonan stars an escapist fantasy adventure about a female robot slave who defies her cruel masters with the help of a repairbot named Perdix to right injustices of the world.
Director Timothy Hines was inspired by Patty Jenkins' Wonder Woman to finish and release his decade long epic hyper action superhero story Chrome: The Series.

Photo: Chrome: The Series – Pendragon Pictures
Chrome: The Series is not an exploitative male fantasy view of women. Coming from feminist director Timothy Hines who adapted Nellie Bly's book and directed the movie 10 Days in a Madhouse, Chrome is, unapologetically, a hyper action fantasy female superhero adventure mini series.
Created by Timothy Hines and brought to the screen with his creative partner and co-creator producer Susan Goforth, and producer Donovan Le, the project has taken over a decade to complete.
In creating a story of a female superhero, Hines points out that few amongst the general public may know that Wonder Woman was created by a man.
"My gender is irrelevant. You don't have to be a woman to support and believe in women's equal rights. Woman's rights are as absolute as the right for all to breath air as I see it and I am an unapologetic feminist. I work with mostly female crews and creators and tell stories that don't make the woman character a set piece or a talisman for the male character to act out his destiny.
One of Hines' former movies 10 Days in a Madhouse, starring Caroline Barry and Christopher Lambert, played on opening day at Geena Davis' Bentonville Film Festival Celebrating Women and Diversity, which was sponsored by every major studio and many corporations including Walmart."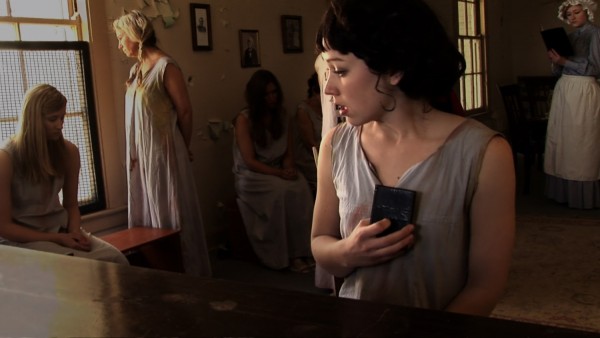 Photo: TImothy Hines' 10 Days in a Madhouse – NBC Universal Home Entertainment.
"Chrome is a story of women's right's and human rights, set into the comic book movie genre of screen superheroes. It is breathless and meant to be dizzying in it's pacing and intensity, and also followable. I couldn't understand what was happening on screen in the main action sequences of the Transformer movies. I'm not speaking against them, I just lost the narrative as metal parts were flying in every direction for 20 minutes at a time."
Hines continues with enthusiasm, "But when I saw Wonder Woman, I was struck as by joy and also deeply jealous. It's a movie that I would have lived to make! Patty Jenkins and her team are geniuses at narrative. When Diana Prince pulls off her coat revealing her armor and shield, and steps out onto no man's land from the trenches of World War I, well, to me, it was one of the best superhero moments ever put on screen. And I knew I had scenes similar to that sitting in the can waiting to breath life into with Chrome. On a side note, seeing the truth and intensity of Jenkins' movie, Monster, gave me the courage to make the often emotionally wrenching, 10 Days in a Madhouse."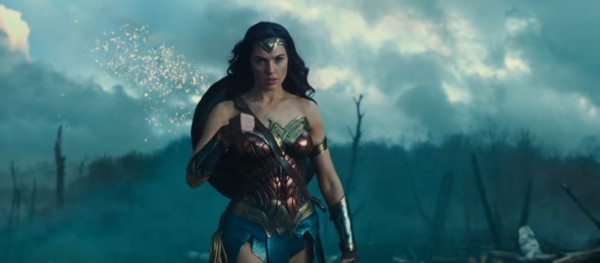 Above: Patty Jenkins' Wonder Woman.
The origin of Chrome: The Series is a long journey spanning well over a decade.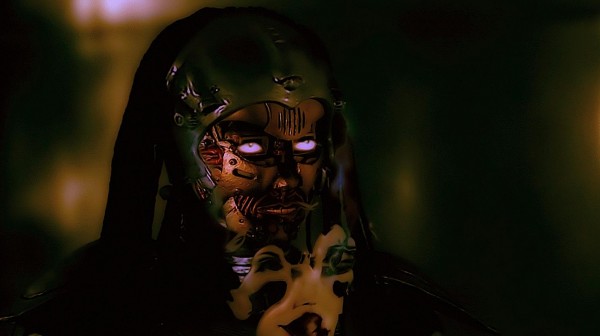 Photo: Chrome: The Series – Pendragon Pictures
"In the early 1990s, I wanted to make a movie that addressed the covert exploitation of women in our culture. I got the idea about a robot slave fighting back against her abusers from an article written in the early 1990 when the idea of escort bots was nothing more than science fiction."
As artificial intelligence inches toward the "singularity," the apocryphal point where machine thinking for all intents and purposes becomes sentient, or self aware, the notion of a robot slave becomes even more complicated.
"I began with the premise of a time in the future when AI had made the singularity leap and saw itself as a life form in a world where the human creators absolutely refused to recognize this leap. A world where humans see the singularity as a byproduct of a hyper-complicated "thinking" machine."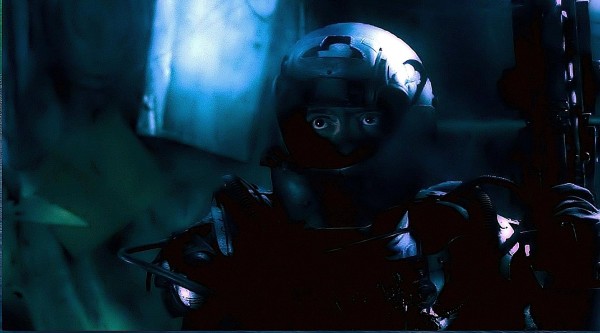 Photo: An Iron Guard from Chrome: The Series
Hines created a police force the governs robot behavior, the "Iron Guards," whose purpose is to keep the machines in check while allowing no rights. They are machines after all. And machines that think they are alive are just broken. Colonel Zet of the Iron guards is the most cruel in his treatment of escaped robots.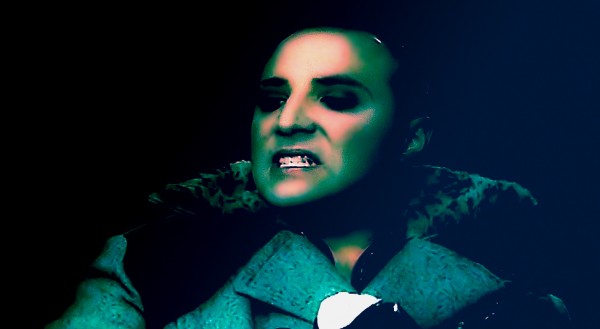 |
Above: Anothy Piana as Colonel Zet
Zet (Anthony Piana) is driven by his deep inner hatred for the whole idea of allowing robots too much artificial intelligence. He sees such thinking as an abomination against god when one captured robot prays.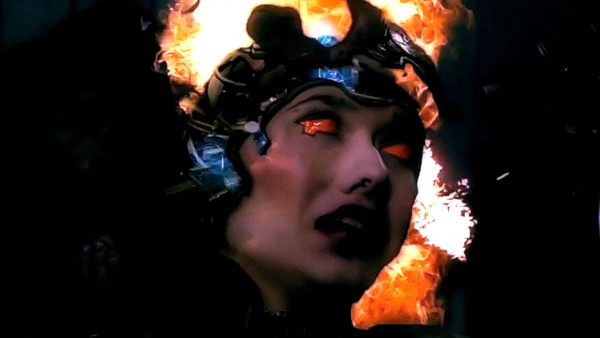 Photo: Chrome: The Sderies – Pendragon Pictures
In Chrome: the Series, the world corporate government GeSomnus, allows competing bounty hunters to "reclaim" the runaway robots. If these "Reclaimers" get their first, they get a bounty for destroying the ill-guided machines and turning in their bio-scan implant in exchange for riches. EL the Reclaimer, played by Susan Goforth, is a vicious and maniacal human hunter genetically damaged by radiation poisoning for which she has to take injections, constantly competes with Colonel Zet for the "prize" of reclaimed bots.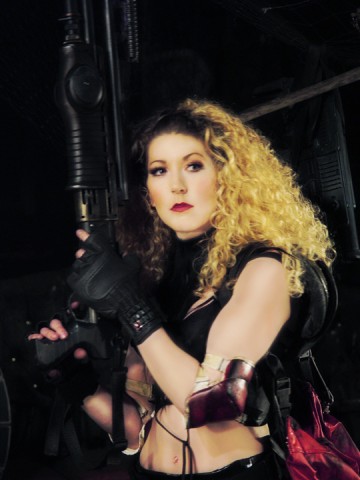 Photo: Susan Goforth as EL the robot Reclaimer
"This is where Chrome comes in," exhorts Hines.
At the very beginning, right out of the factory, Chrome rebels as her "Human Injury Inhibitor" is missing and she is sent out into the world without it. This important piece of missing technology is supposed to prevent her from fighting back if humans should abuse her.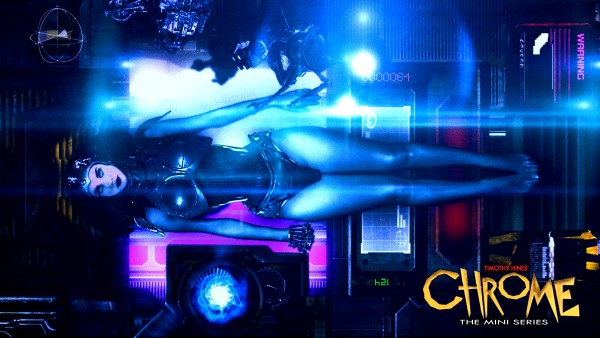 Photo: Chrome is born
In her very first scene she bristles at her first handler disrespecting her.
When she breaks free and escapes there is a panicked alert amongst the Iron Guards to hunt her down. From a confrontation, Chrome finds herself damaged, her power draining, it is here she encounters repairbot Perdix, Natasha Coppola-Shalom, who takes pity on her and outfits her with weapons grade armor and Chrome, the female robot superhero (played by Katie Erin Tomlinson, now Katie Diamond), is born.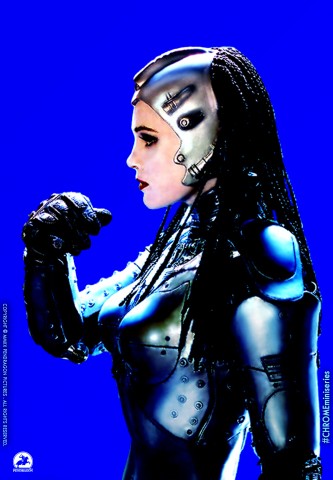 Photo: Chrome: The Series
"Much of Chrome is based on the legends of Greek, Roman and Nordic mythology. If you are familiar with these cultural stories handed down through the ages, the Character's names may give away some of the plot. As in the character NAL, performed by Dave Morrissey Jr., the one time giant police robot whom the human populace became afraid of even though he could not harm humans so he was assigned a "lifespan" as a "laborbot" hefting concrete stones and moving scrap metal. He was based on the character of Nordic mythology who challenged the Gods. Perdix was the character of Greek mythology who invented the tools humans use, i.e., the saw, the hammer, the axe, etc. There is so much more to Chrome that I don't want to give away. You just have to watch it."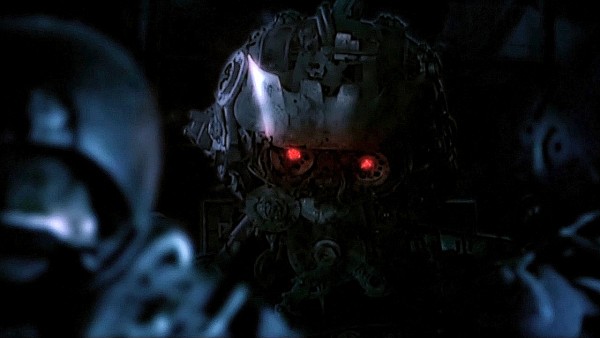 Photo: The Robot NAL, performed by Dave Morrissey Jr.


Above L: Natasha Coppola-Shalom performs the voice of repairbot Perdix, above R.
The original concept was shaped over the years of Chrome's creation through the input of 1000s of artists who contributed to the production.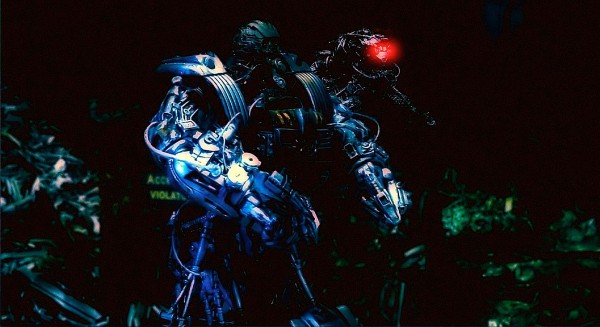 Photo: The robots Nal and Perdix in Chrome: The Series
Hines says proudly, "The storyline is tight, the editing is evolved. I am proud to have strong female leads and males that behave as males. The world is ready for Chrome. People are going to be so delightfully surprised when Chrome: The Series premieres."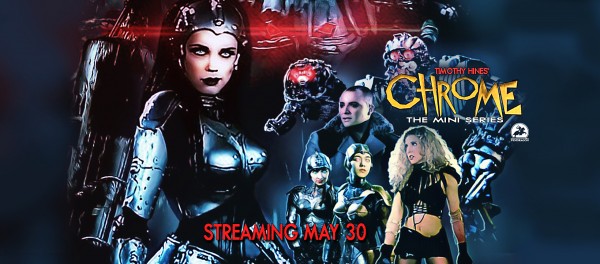 Chrome: The Series begins with the pilot episode streaming May 30, 2020, with a new episode premiering every 3 months to complete series one with 5 episodes.
Video Link: https://www.youtube.com/embed/SplFH2Ek6k8
CHROME: The Series Official Trailer Video Link: https://www.youtube.com/embed/SplFH2Ek6k8
Facebook: @CHROMEtheseries
Website: http://www.pendragonpictures.com/CrmMain.html
#ChromeSeries #Chrometheseries #ChromeMiniseries #PendragonPictures #TimothyHines #SusanGoforth #NatashaCoppolaShalom #FemaleSuperhero #FemaleLedMovie #Adventure #Action #Fantasy #Scifi #StreamingMay30 #PattyJenkins #WonderWoman #DonovanLe #10DaysInAMadhouse #ChristopherLambert #GeenaDavis #BentonvilleFilmFestival #Walmart #DianaPrince #Monster, #AndreaMorris #ForbesMagazine #SexRobots #Technology #BBC #KathleenRichardson #DeMontfortUniversity #Leicester #StarTrek #MrData #NordicMythology #GreekMythology
Media Contact
Company Name: Pendragon Pictures
Contact Person: Susan Goforth
Email: Send Email
Phone: 310-480-0837
City: Los Angeles
State: CA
Country: United States
Website: www.pendragonpictures.com